Only a few weeks ago, Europe was looking at the Coronavirus outbreak in China with a mix of nonchalance and incredulity. Now that the virus is on our doorstep, and its seriousness has become clear to most of us, self-isolation (when possible) is the responsible route to take. Let's weather this storm together and self-isolate for the greater good of our community! We've put together a list of some of the best podcasts to listen to, to help you get through that voluntary confinement.
2 Dope Queens
Brooklyn's live comedy stars, Phoebe Robinson and Jessica Williams, were launched to fame as co-hosts of this sassy, female-empowering and socially informative series. Expect quick-witted chat about sex, romance, race, hair journeys, feminism and living in New York. Oh, and also conversations with culture-defining characters of our time. From talking black women in power and singing karaoke with Michelle Obama, to celebrating birthdays in style with John Stewart. Also, Phoebe and Zoe Kravitz, Queen Latifah, Tom Hanks… you get the gist. Ready for some deep belly laughs with the coolest show on the block? Available for free on all platforms.
Outrage and Optimism
'Tis the stuff all eco-warriors' dreams are made of. A fact-checking podcast on climate change, with guests of the likes of Greta Thunberg, Stella McCartney and David Attenborough. Lead by Global Optimism founders Tom Rivett-Carnac and Christiana Figures, who is also former executive secretary of the Climate Change Convention. If you'd like to brush up on real climate facts, while also getting inspiration on how to forge your outrage into effective action, you've struck the podcast gold! Outrage and Optimism is free to listen on their website. Also available on Apple Podcasts and Spotify.
Getting Curious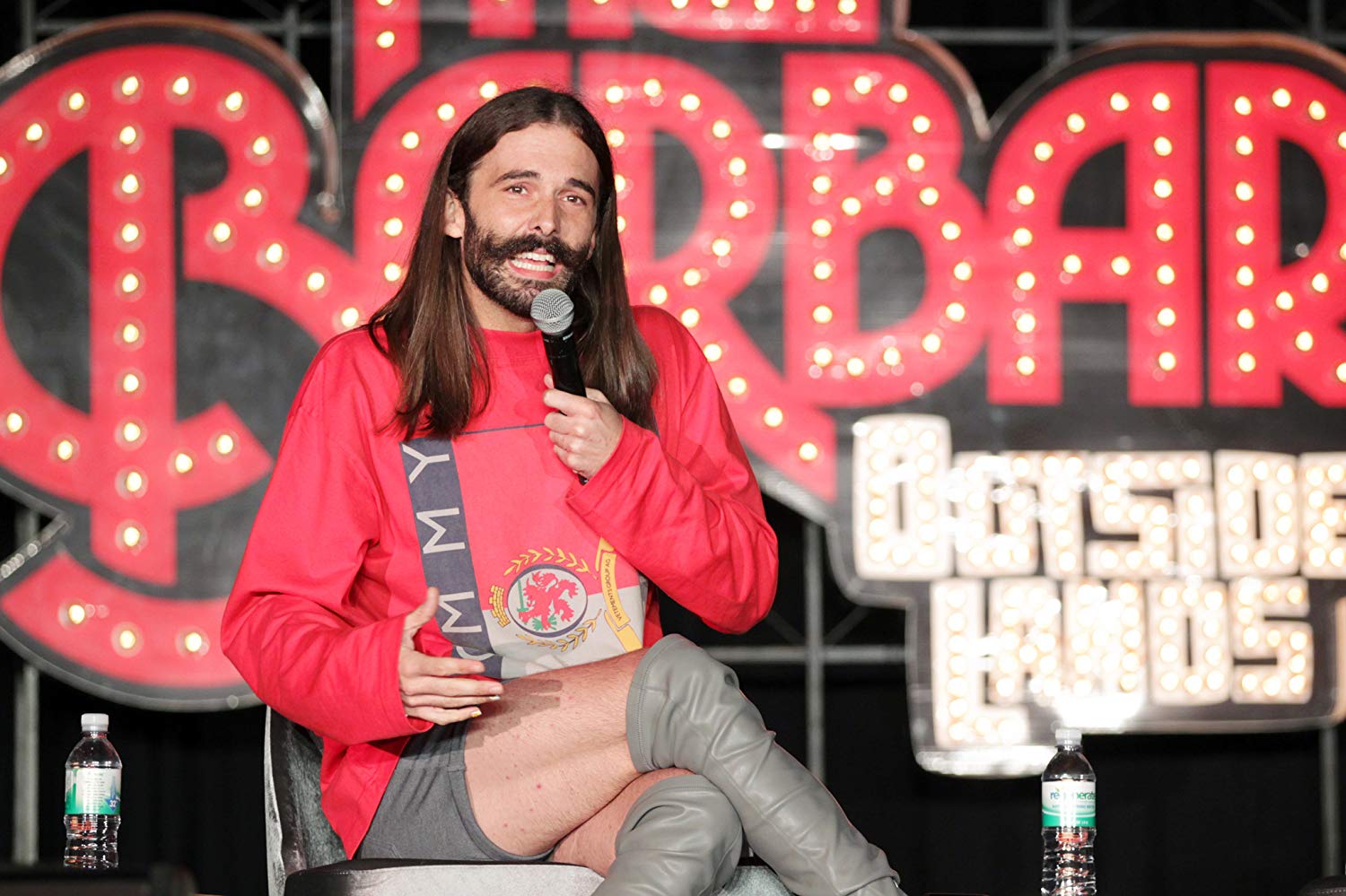 U.S. hairdresser and Netflix sensation Jonathan Van Ness from Queer Eye (and Gay of Thrones) takes you on an explorative journey about… pretty much everything under the sun. Every week, the grooming guru gets experts from different fields (from medicine to music to history) to put the cards on the table. Whether it's cults, Climate Change or the Romanov family, Van Ness isn't one to shy away from delving into the deep ends of the matter. Some key episodes? "How Will You Win The White House 2020?" with Senator Elizabeth Warren and "How Can We Twerk On Climate Change" with "The Science Guy" Bill Nye. Stream or download for free on Stitcher.
Table Manners
Table Manners is in this month's Apple Podcast top 10. And frankly, it deserves to be. It might not sound endearing initially: Singer Jesse Ware cooks with her mum, and chats to celebrities. But then you realise it's like sitting around your family dinner table with the likes of Ed Sheehan. Or Jamie Oliver, Vanessa Williams and Jo Brand. Or even Roisín Murphy, Nicole Scherzinger, Liam Payne, Dolly Alderton and Nigella Lawson! The best part? Ware's mom's bossiness, and the fact that no topic is off-limits. And that there's about 8 series, so we're stocked for the long-run. Just in case. Also available on Acast.
This American Life
With 5+ million listeners for each episode, This American Life is a chart-topper. And for good reasons. It's high-quality, entertaining journalism that's built around a plot. Literally, it's like short movies for radio! So get the popcorn out and get comfy. Back in the 90s when it was created, the show was deemed the "vanguard of a shift in American Journalism". Over the course of 20 years, host Ira Glass and his team have produced over 600 episodes of remarkable stories from across the US and the world. Funny, thought-provoking, and sometimes realistically depressing, this podcast is a never-end gripping audiobook. Of real-life events. Free listening here.
Conversations From The Heart
International yoga teacher, speaker, bestselling author and serial entrepreneur Rachel Brathen, aka Yoga Girl, shot to fame after her #yogaeverydamnday hashtag went viral. Today, 2.1 million people follow her dreamy life in Caribbean Aruba with her husband, three-year-old toddler, Ringo "the Gringo" Dog and Lucy&Penny the goats. "From the Heart" features positive, light-hearted chats about love, trust and finding balance. But also veganism, cultural appreciation in yoga, how to travel with a toddler and not lose your mind, etc. An intimate, heartfelt show with high-quality meditations and top-notch guests like GaryVee. Eccellente.
13 Minutes To The Moon
If you're looking for a healthy adrenaline rush, BBC World Service will keep you on the edge of your seat. And if you've ever wanted to know in detail the challenges faced by Neil Armstrong and Buzz Aldrin before landing on the moon.. your wishes have come true. Because this excellent series recounts the critical moments of 13 minutes that made history. When the two astronauts lit the engine on Eagle, the funny-looking spacecraft that would take them from 50 thousand feet to the lunar surface. Real-life audio cuts, interviews with key figures, a well-researched lead and award-winning music. Available for streaming and download on BBC Sounds.
The On Being Project
Krista Tippett is rightly known as the "radio's chief goddess of all things being-and-belief-related". Her calming tone is music for the ears… and an effective sedative for an anxious mind. Her episodes have been downloaded 200 million times. Apparently, there's a high demand for content that will take you on a journey through science, social healing, community and spiritual inquiry. The thing we love the most about On Being? Well, it's independent, non-profit media, for starters. Secondly, its intention is not religious conversion, but to engender conversations that can help us become better people. Touching upon the great questions of the mystery of life: "What does it mean to be Human?" and "What kind of Human Being do I want to be?". Listen, download and subscribe here.
The Dropout
The Dropout won the Guardian's first place for 2019 podcasts. Here's why. ABC News journalist Rebecca Jarvis takes you through the compelling story of a highly successful and scheming young woman, Elizabeth Holmes. And that of her sham company valued for billions of dollars. It took dozen of investigations by Wall Street Journal writer John Carreyrou to uncover the huge lie for which many in the medical industry fell for. If you've always wondered what it takes to be a mass deceiver, this series will remind you about how the truth can always be manipulated to a highly likely falsehood. Available on Apple Podcasts.
Science Rules!
If you wanna know the hard facts of the current pandemic, Bill Nye "The Science Guy" is your man. Why? Because he's called an infectious disease specialist to get into the nitty-gritty of today's hot topic, helping normal people understand the guidelines and policies put in place by governments and the WHO. Where did coronavirus come from? Why is it so contagious? Who will it affect the most? What can I do about it? Get answers to your questions on the podcast. You'd rather take your mind off the virus? Key matters such as carbon capturing, space exploration and vitamins tickling your fancy? You're spoilt for choice. Science geek-out, anyone? Listen for free on Stitcher.