Last month, London, Milan and Paris high-profile celebrities, designers and models flocked to the most glamorous catwalk shows and after-parties. However, this year's haute couture reverie has been overshadowed by the fashion industry's implication in the climate crisis. The industry alone emits almost as much carbon as the entire European continent. And an in-depth analysis by Quantis shows that, in 2016, the apparel and footwear industry accounted for 10% of global pollution impacts.
Another report found that 25% of the chemicals produced worldwide come from the fashion industry. Its global carbon footprint is bigger than all international flights and shipping combined. To put it in perspective, producing one pair of jeans consumes enough electricity to drive a car for 80 miles. And a cotton shirt requires 2700 L to make – the amount an ordinary person would drink in two years.
Last but not least, modern slavery practices have been the foundation for many successful fashion brands. Despite the fact that our national industry is worth £32 billion a year, fair pay has not been the industry's forte. Some garment factories have been found to pay their workers £3 per hour, regardless of the UK Government's 2015 Modern Slavery Act.
Overall, Fashion United estimates the global fashion industry to be worth $3 trillion (2% of the Planet's GDP. It employs over 3 billion people, playing a huge socio-economic role. Hence, it is impelling that the industry rethinks the business model it is based on. In order to reduce greenhouses emissions, it needs to nurture the Earth and improve the disposable income and fundamental human rights of its workers.
But while big businesses certainly have most to answer for, they are not the only ones who need a reality check. According to the World Resources Institute, one garbage truck of clothes is sent to a landfill every second. Within a year of purchase, 80% of consumer acquisitions are thrown out or donated. So after a short stay in our wardrobes, non-biodegradable fabrics can lie in landfills for up to 200 years.
We love fashion. We love beautiful clothes. But there is no beauty without truth and there is no truth without transparency.

Carry Somers
Founder and Global Operations Director
Fashion Revolution
Slow fashion to end pollution and exploitation
The business strategy used so far has been one of outsourcing to the point of no return. In the effort to slash production costs, most big brands have outsourced to production sites in the global South. In countries which are big for the industry's production stream, such as India or Bangladesh, environmental regulations and enforcement tend to be more lax than in the West.
This situation allows for the industry's staggering production of toxic wastewater, which amounts to 20% of global output. A 2012 study found that the "textile dyeing and finishing industry is the No. 1 polluter of clean water (after agriculture)." Wastewater is highly toxic for human consumption and it contributes to the loss of productivity and biodiversity of surrounding soil.
Another important driver of the industry's negative impact on climate change is overproduction. Some of the industry's dominant players, such as Zara and H&M, have launched up to 24 lines per year. That's one every two weeks. Yet, within a year of production, nearly three-fifths of all clothing ends up in incinerators or landfills.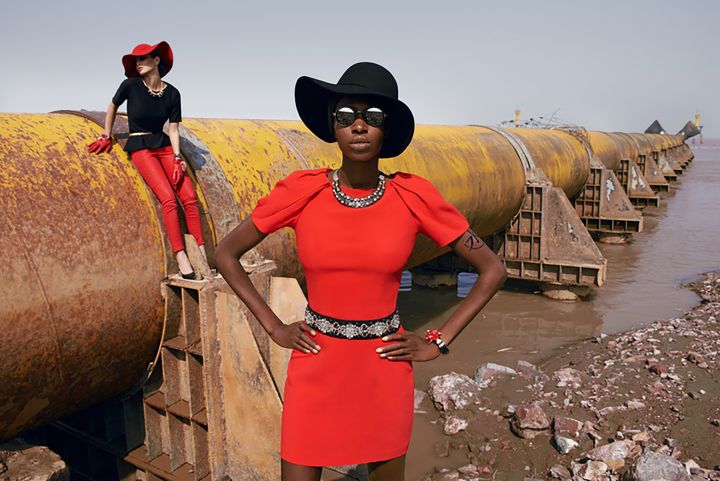 The tonnes of clothing produced rapidly and inexpensively have highly accessible prices to most Western consumers. But the low price tags have hidden surges. Most textile factory workers don't earn enough in a month to pay for just one of the garments they make. Work conditions are often unbearable -sometimes even deadly- and all to meet the demands of highly disposable, discount fashion trends.
Back in 2013, the Rana Plaza five-story textile factory in Bangladesh collapsed, killing over a 1000 people and injuring several hundreds. It took weeks to unravel the mayor brand involved in the disaster. It was then that the public discovered that big brands were not aware of where their suppliers were located. Brands involved faced public backlash and Bangladesh is now one of the "safest" countries for textile workers. But what else is happening to bridge the systemic disconnect between production and sustainability?
According to Vietnam's prominent eco-fashion brand founder, Thao Vu, the rise of slow fashion is one of the answers. She founded her business on traditional dyeing practices, handmade silk productions and eco-waste management. In her view, slow fashion processes are less wasteful because "the strength of the relationship between maker and fabric" is extremely strong.
In an interview for Mother of Invention, she stated that "So much work goes into creating one single piece of fabric" clothes-makers have to plan efficiently before making the cut. In addition, unlike their fast fashion counterparts, made-to-last clothes last up to 10, 20, even 50 years.
Compared to fast fashion, slow fashion had the added advantage of reduced dependency on fossil fuels. Currently, polyester (a refined product of crude oil) makes up 70% of all clothing on the market. As sustainability literacy consultant and founder of The Slow Factory Foundation Céline Semaan puts it, "everything you make transforms either into food or poison for the Earth." So returning to natural fibres is a positive step in the right direction.
Another important industry-wide project focuses on increasing efficiency with specific Science-Based Targets to commit to. So far, top apparel companies such as Levi Strauss, Nike, and Gap have adhered to the project. To decrease industry-wide greenhouses emissions, switching to renewable energy and promoting energy efficiency/productivity are the most impactful measures to take.
However, when it comes to the consumer's side of the deal, a circular economy does seem to be the most important lifestyle change with immediate impact.
The fashion of the future is not about the pretty little things, the shoes and handbags and the new party dree. It's about weaving truth and value into our clothing.

Olivia Somers, Fashion Revolution
Circular Fashion and the Circle of Life
Nature works on a circular model. Everything that is created has its use. And once it reaches the end of its life, it goes back to feed the Earth. So the newest trends in our own personal consumption of fashion items is starting to reflect this basic, holistic principle. In a way, our consumption models reflect our values and the rise of eco-awareness has impacted profoundly the way we shop, and the relationships we have with what we buy.
This is a fundamental aspect of the new eco-revolution: other than buying less, we are transforming the old into new. The second-hand and the vintage markets have been doing so since time immemorial: re-looping garments into the system, skipping the most polluting phases of the industry.
This is exactly what the Renting/Leasing model has to offer. Danish pregnancy and childwear brand Circos has pioneered a platform leasing clothing items for a fraction of their retail price. And seeing they stock high-quality brands such as Patagonia, they significantly decrease parent's bills at the end of the month. They also allow apparel retailers to produce less while earning the same or more because one item can supply tens of customers.
In London, however, the most exciting news on the Leasing/Renting front comes from Loanhood. They will launch their peer-to-peer rental platform in May, allowing members to make a small-to-moderate financial return from items of clothing. In this way, unused garments can become a small earner. This is bound to transform the way we relate to those items lying in our wardrobe, but never use.
Lastly, clothes swaps are yet another trendy way to extend our clothes' lives while infusing our wardrobes with some new styles. And, most importantly, sparing our wallets and landfills! Clothes swaps are exactly what they sound like: opportunities to swap unwanted items of clothing with "pre-loved" items. You can find a list of the city's top swap shops here.
In conclusion…
The 2019 Fashion Transparency Index Report by the Fashion Revolution reports that there's still a long way to go. The industry is making the effort to go towards the three bottom line "Profit-Environment-Human Rights." Brands have made an effort to become more sustainable and transparent, in response to consumer trends demanding transparency. Effectively, our choices have spurred the new fashion wave.
As consumers, we have the power (and the responsibility) to impact how the industry works. We can do so by using our spending power wisely. By re-examining our relationship with trends, we are changing our shopping habits and the world. If we're willing to go beyond fast fashion, there are plenty of eco-options available to us. They are going to help transform our wardrobes and our lives. Not merely into being more eco-friendly and ethical, but in becoming a true force for change.
"Fashion can create meaning, meaning creates culture and culture creates action."

Céline Samaan
The Slow Factory Foundation
Featured photo of the Moschino 2017 fall collection is by Imaxtree.